With all the fundraising done in the #BettyWhiteChallenge, and the spotlight on animal welfare, this question has come up – Can you leave your estate to your pet? The short answer is, no. You cannot leave money, assets or property to your pet. Law dictates that animals are property, and one piece of property cannot own another piece of property. Today's blog post will discuss what to do with pets after you die.
Some of you will have read articles about pets being left an inheritance. The truth is, their deceased owners made sure their pet was provided for. They made sure that their pet would live out a comfortable life after their owner is gone. To do this, owners need to set up a "pet trust".
What is a Pet Trust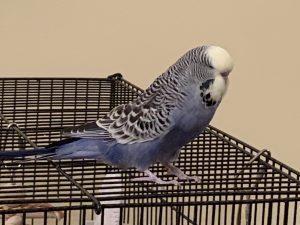 This type of trust is a "checks and balances" that helps ensure your pet will have all of their needs addressed. Your pet will have all the food, shelter and care that is required. In a pet trust, the beneficiary (your pet) would receive benefits through an established trustee. In my case, let's consider that I create a pet trust for Pixel, my English budgie.
For Pixel, I would identify a person, or a Trustee, to be the distributor of funds. The trustee would deliver that money to Pixel's caretaker, also known as a pet guardian. The pet's guardian purchases food, medical care and other needs for Pixel. The trustee may supervise the caretaker. This ensures that all of the money is being used to cover the care and feeding of Pixel, and not spent in other ways.
The Rainbow Bridge
So, what happens to Pet Trust funds when the pet crosses the Rainbow Bridge? At the time of the pet's death, owners may specify another beneficiary for remaining funds. That might be a local humane society, animal welfare agency, another charity or in some cases the remaining funds will be distributed to the pet's guardian.
Are there things to watch out for when creating a pet guardian? Yes, yes there are. When considering creating a Pet Trust you should always do the following:
Be very specific in what the pet trust covers. Set specific instructions – How much the caretaker receives, and how much goes for the pet's care. Be as specific as you'd like, from how much is to be spent on food, veterinary care, and grooming.
Always have a contingency plan. When the designated caretaker is unable to care for your pet, you should have a contingent caretaker named.
Keep your pet trust to a reasonable amount to avoid the will being contested. Leave only enough to have your pet enjoy the same lifestyle as they currently have.
Don't make the mistake of setting up a pet trust by yourself. Use an experienced estate planning attorney to ensure that everything in the pet trust is set up exactly the way you want. Contact me about your options for setting your pet trust or when considering adding a pet trust to your current estate plan.